Product bulk editor, Excel UI. Price Change, SEO & Metafields
About Bulk Product Edit Super Sheet
Edit products Instantly! : Bulk edit products instantly, thanks to Shopify Bulk API! Data never leaves Shopify, so changes are reflected instantly in store!
Manage products fast! : Manage multiple products at once with spreadsheet UI like Excel or Google sheet. Full HTML editor, keyboard support and smart fields.
Edit product SEO plus anything : Edit SEO, metafields, variants and product data at once - use filters to focus on what's important, use bulk edit to update multiple fields.
Description
Manage all your products at once, in spreadsheet right in your Store Admin. Bulk edit multiple products, variants, metafields and SEO fields with Search & Replace function.
Spreadsheet editing app with powerful product bulk editing
Super Sheet allows you to manage your products in a spreadsheet – like in Excel or Google Sheets – right from Shopify admin. Instead of importing and exporting CSV files and waiting for hours for data to sync between servers, you can simply edit products in the app and hit save. Thanks to the new Shopify Bulk API, the bulk updates to store catalog are instant – also including metafields editing and product SEO.
Features
Bulk editor: Bulk Update many product fields at once, using simple "where" -clauses to find matches. Chain more clauses together to drill down and find exact matches. It's simple, yet very powerful!
SEO: edit product SEO like URL, meta titles and descriptions like any other field. Use template variables to repeat product title, type etc. in the text.
Metafield support: Bulk edit Metafields. Complete support for products – including metafields added via third party apps! When loading data, you can choose how the metafields are being handled.
Infinity scroll: scroll like you've used to in desktop apps like Excel or Google Sheets.
Save & Load searches for quick access - both for data and bulk edit queries!
Smart loading: Use status, dates, tags, vendor or free search term to load the data you need.
Focus: Show only certain types of fields, and filter & search items by their properties.
HTML editor: Edit HTML-fields using a fully-featured editor!
Keyboard support: Use arrow-keys to move, press enter to start editing.
Bulk edit Examples
Add tag 'Red' to each product, which has a 'red' option listed.
Add "Comfy" to all SEO titles for pants with "comfortable" mentioned in their description.
Rename each SEO title to "[[title]] is the best gift for holidays!" where [[title]] is the product name.
Replace prices of $10 with $9.90.
Increase the prices of blue shirts, tagged with "new", by $10.
Add 25 % to prices of variants that have inventory less than 5.
Why Super Sheet
Super Sheet grew from the need to be able to edit many products from different vendors in a familiar way. The existing apps were either slow at syncing data between servers, or more "task oriented". What was missing was a simple interface for editing the products. Everyone running a business is familiar how Excel works, so spreadsheet editor is a natural fit for the task. But editing tens of thousands of rows is not really feasible. So having powerful, yet simple bulk editing capabilities was the other goal right from the start.
App Images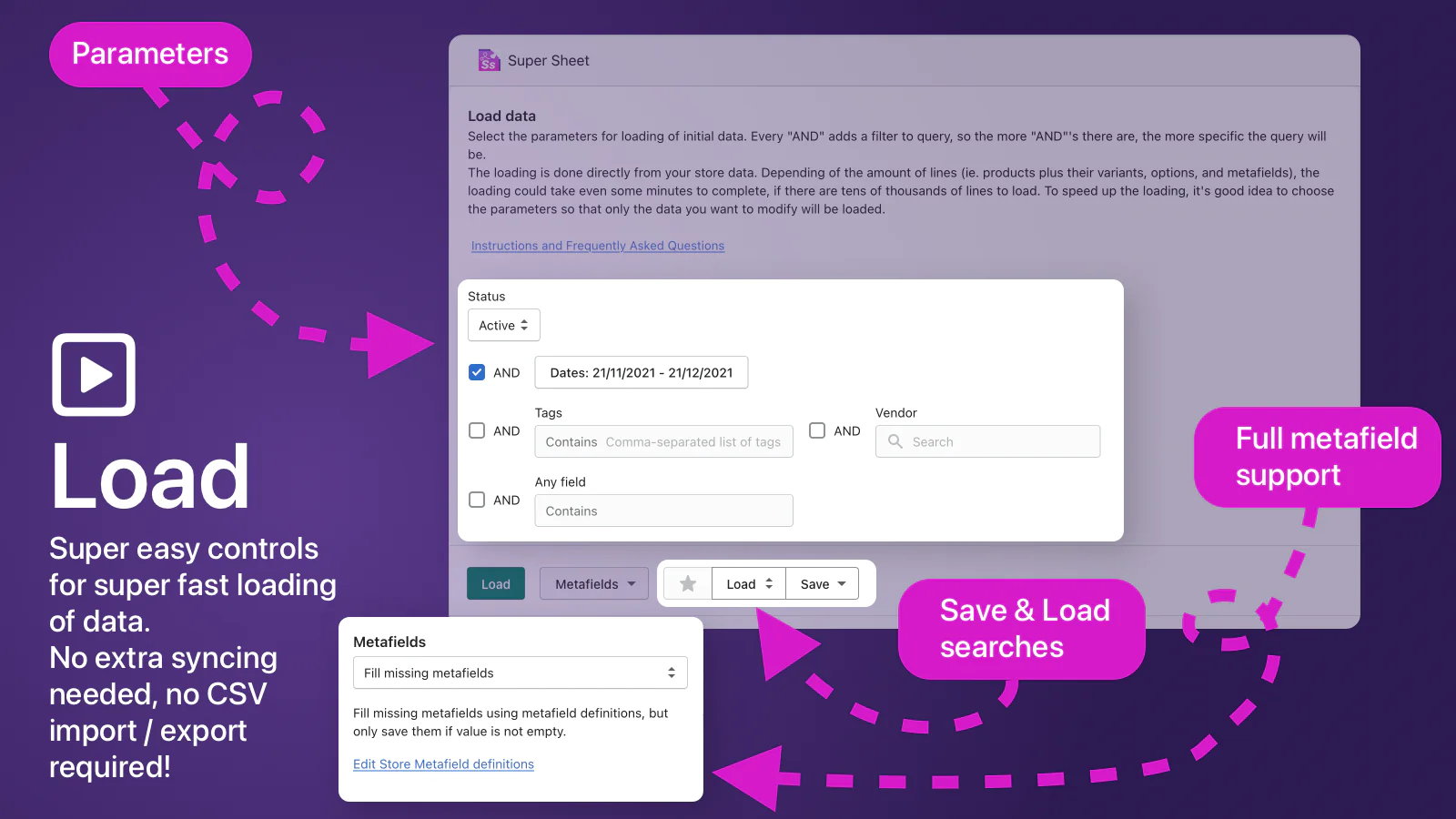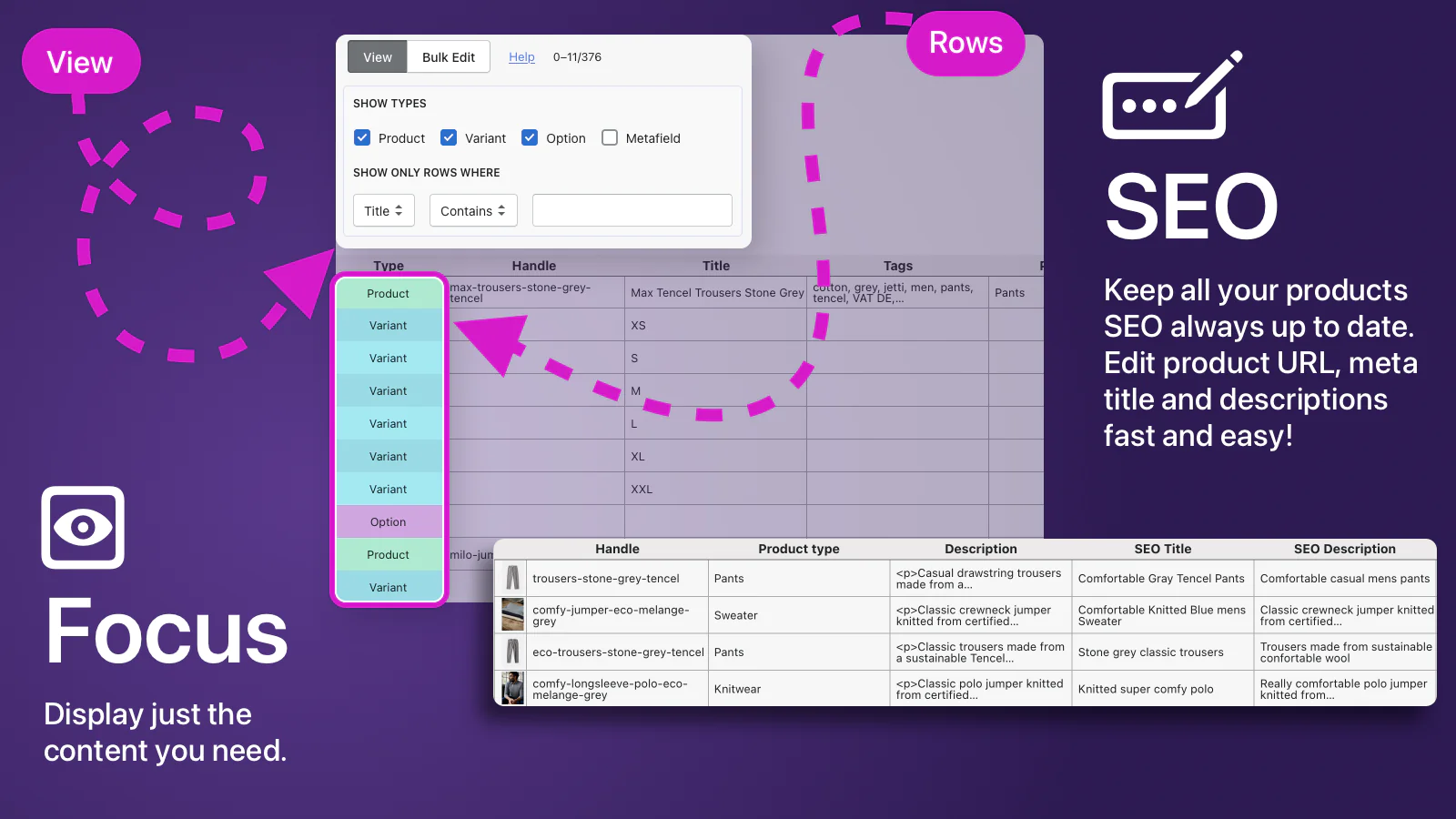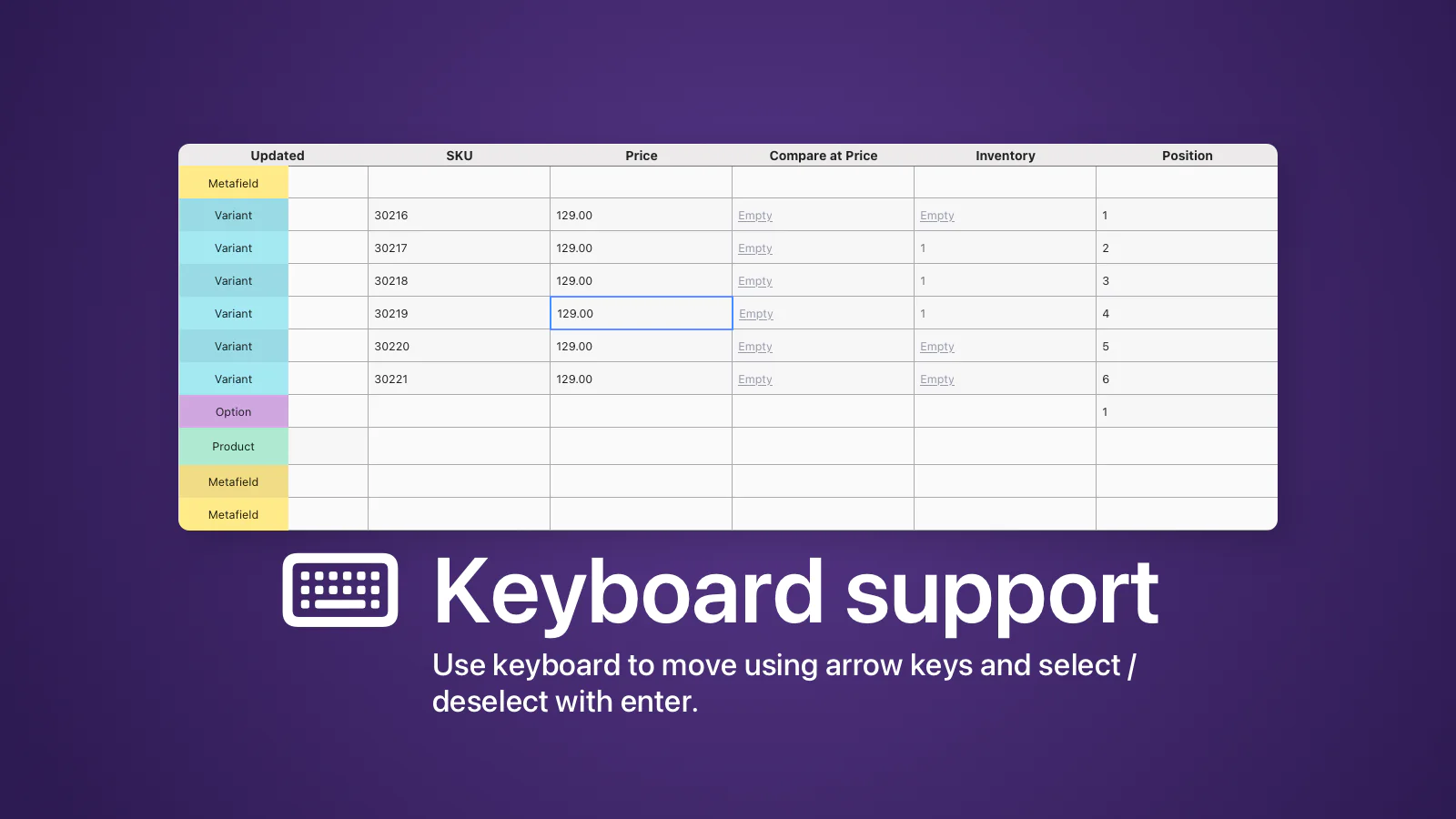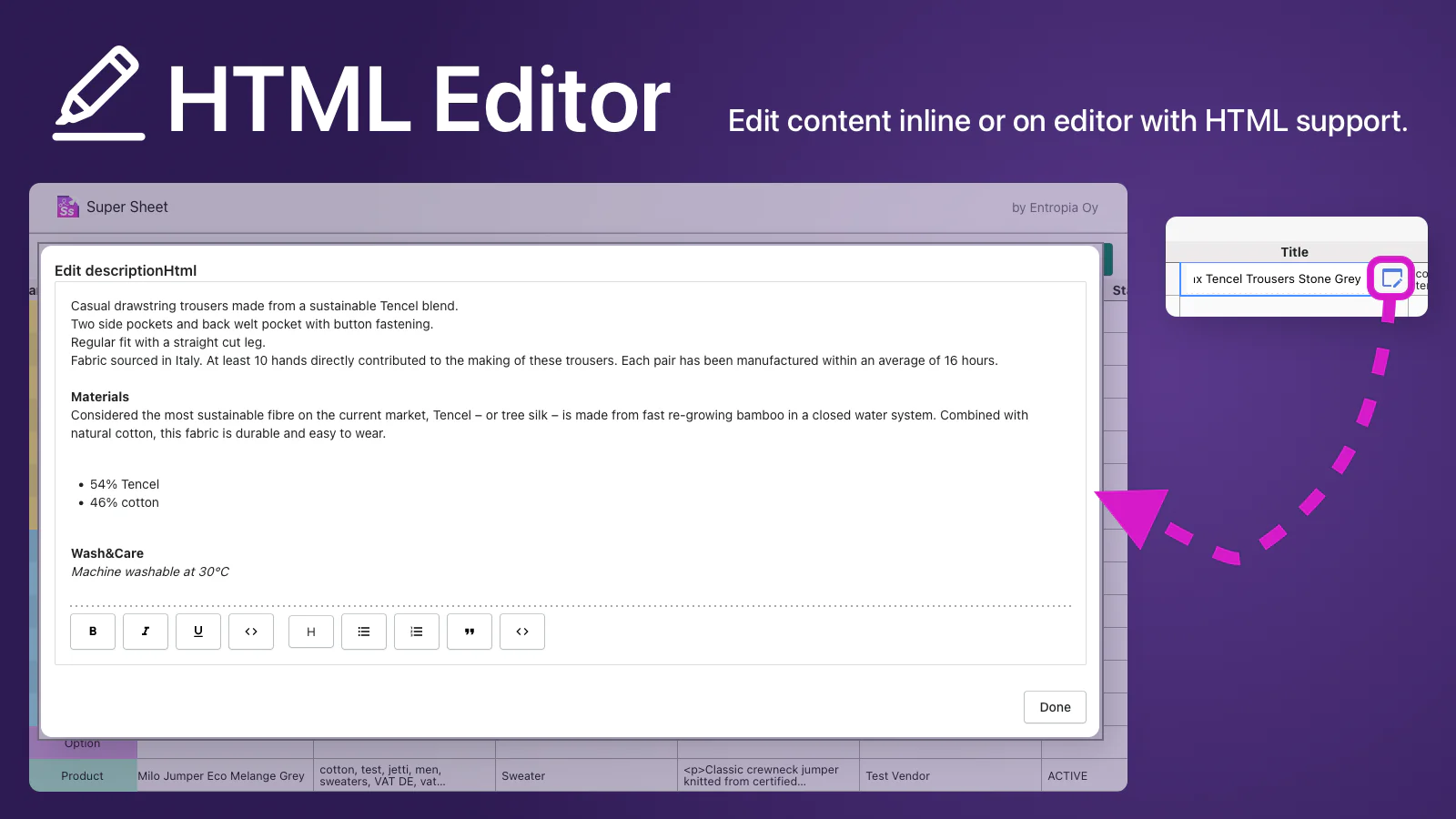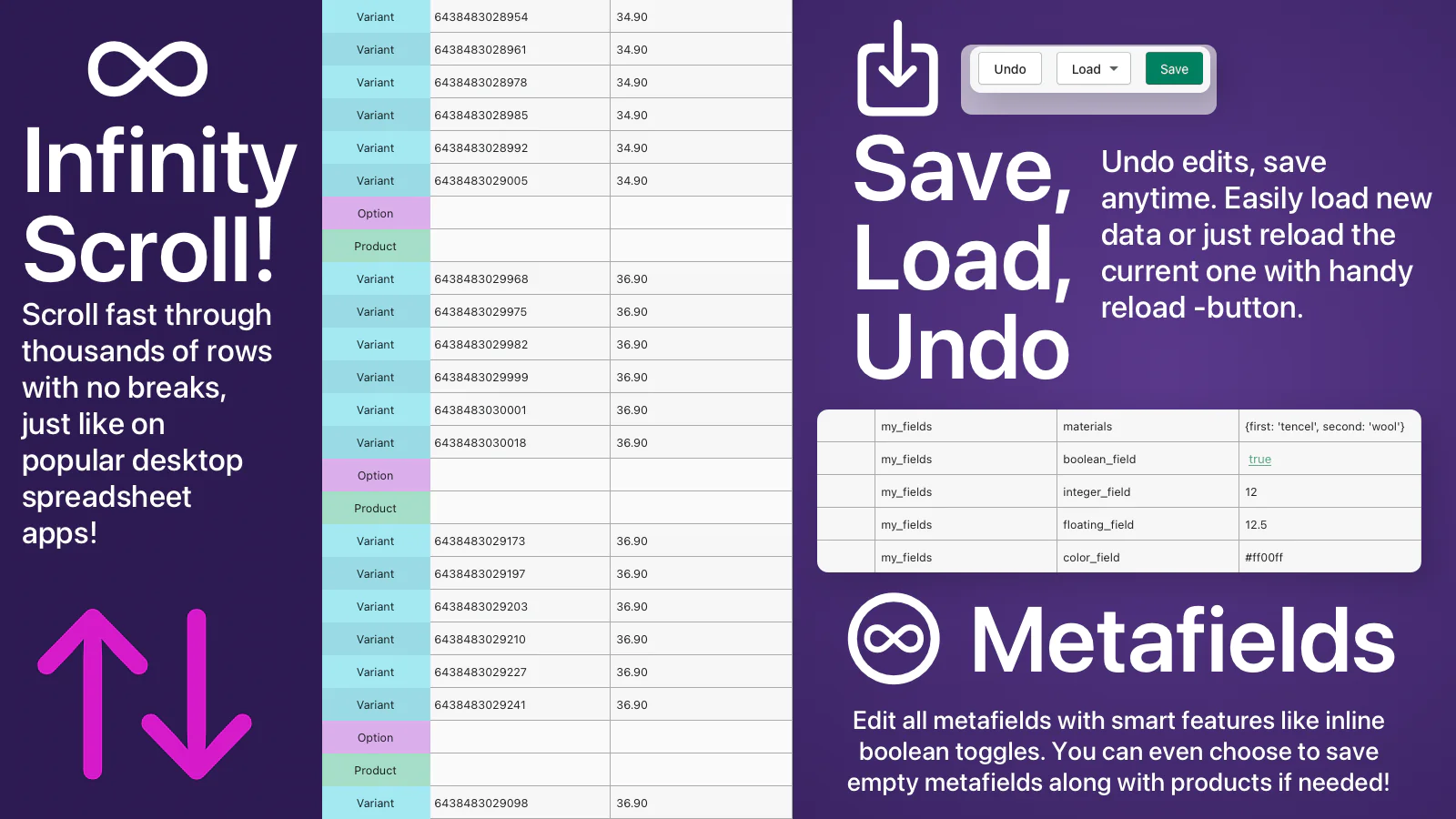 Launch date
February 18, 2022
Top features
Seamless workflow: use directly in Shopify admin
About the Author
Matej Kontros is an E-Commerce expert and app developer with over a decade of professional experience in IT.
Matej has worked for organisations of all types and sizes, including global players, startups, and agencies. He designed, developed, and maintained complex projects.
Matej's expertise includes e-commerce, software engineering, web development, systems administration, internet security, managing projects, and building teams.
Visit his website at [ Web Linkedin ] or contact him at matej@kontros.com.